Yoga: Hero shoulder opener with blocks and straps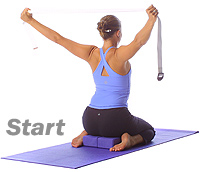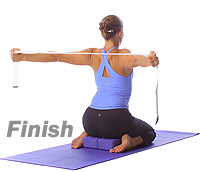 Exercise Description:
Yoga: Hero shoulder opener with blocks and straps
Instructions:
Kneel on the floor and place one brick between the feet and slowly drop the sitting bones down onto the foam brick. Align the knees and the ankles. Grip onto the strap by placing the hands wider than shoulders. Inhale and slowly raise the arms over the head, drop the shoulder blades down the spine and look forward. Take the hands as wide as you need them to find the stretch in the shoulders. As you start to feel the shoulders opening in this pose start to extend the arms behind the head. Maintain a straight spine not allowing the shoulders to come up towards the ears. If your hips are loose, you can remove the block and place the sitting bones on the floor and the heels to the outside of the hips. Take 5 to 10 deep breaths.
Side Note:
Improves digestion. Increases the flexibility in the shoulders, chest, hips, quadriceps, knees and ankles. Improves posture. Improves circulation to the arms, hips, knees and ankles.
Categories:
Yoga
---