Lateral Flexion on Sissel Exercise Ball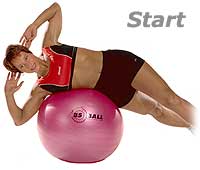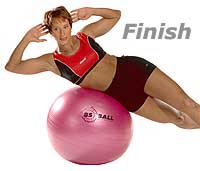 Exercise Description:
Lateral Flexion on Sissel Exercise Ball
Instructions:
Lie on your side with Sissel Exercise Ball under waist and hips. Extend legs and anchor feet against a wall. Bend arms and place hands by ears. Drape over ball, then lift torso in opposite direction, bringing side of ribcage to side of hips. Don't let your pelvis roll forward or back on the ball. Return to starting position and repeat.
Categories:
Abdominal Core, Back
---
Equipment Used
Model Number : 160.014
Securemax® Exercise Ball - 75 cm (silver)
SISSEL® Securemax Exercise Balls can be used for a variety of purposes: to assist you in your workout, as a useful tool in physiotherapy, as a seat to encourage correct posture. The use of the Securemax Exercise Ball as a seat at home, the office, ...
---
Model Number : 160.060
SISSEL® Ball
Not Available For Purchase
---